Touchless Dispense Valve - Battery Powered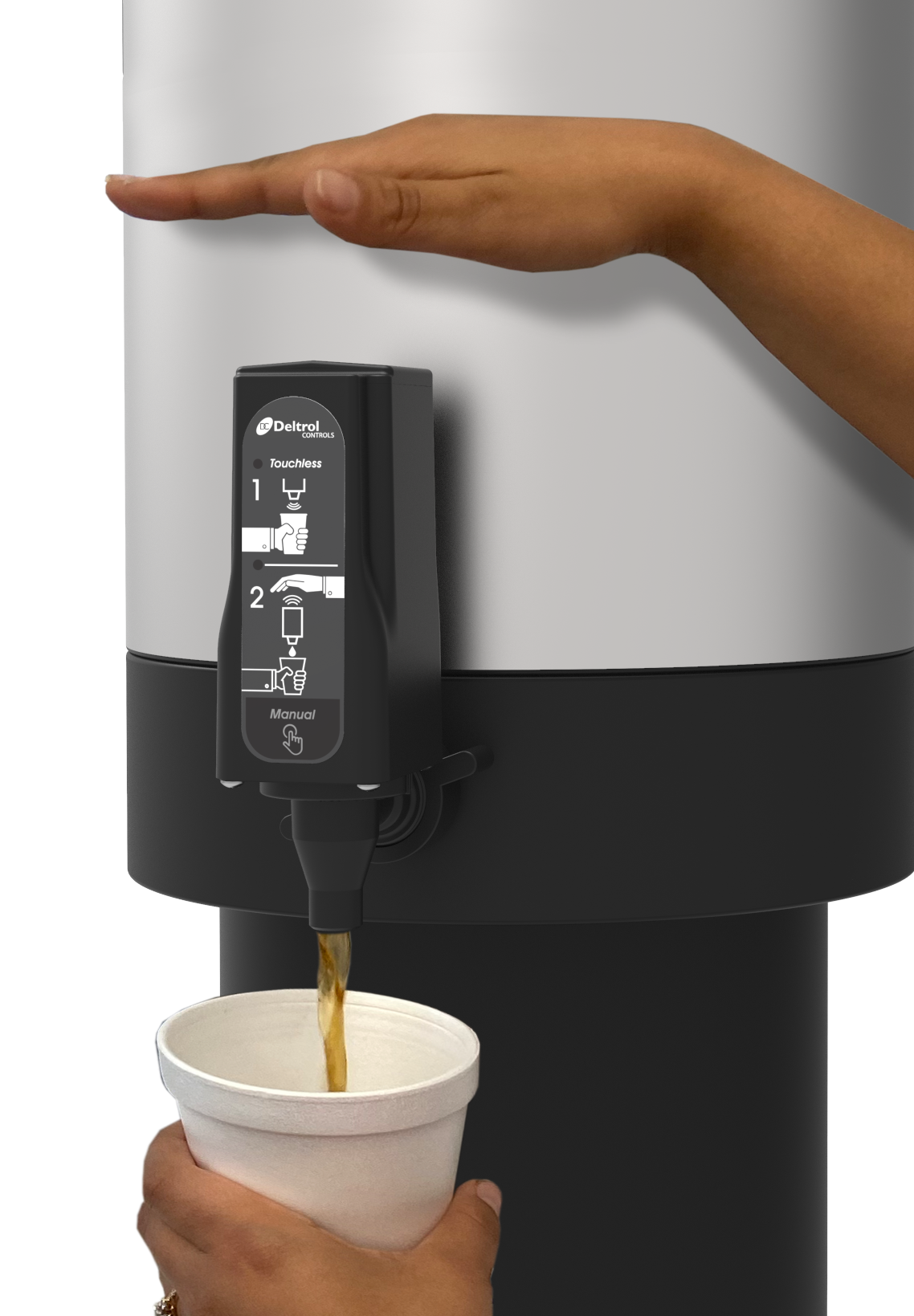 No Transfer Of Germs
No Physical Contact
No Effort Whatsoever
Battery-operated with easy retrofit capability, Deltrol touchless technology are the future of beverage serving equipment. A better product - and a better future - are within your reach. You just have to let it flow.
FEATURES:
Touchless operation for sanitary dispensing
LED provides visual feedback of cup detection
Battery powered, no other power source required
Designed and Assembled in the USA
Easy to clean wetted components
Direct replacement for many manual faucets
Dual sensors to detect cup first, then hand to initiate dispense
Max Operating Pressure: 60 mbar (24" water column)
Inlet Connection: 3/4 - 14 NPSH thread
Ambient Temp Range: 1 - 38° C (34 - 100° F)
Typical Flow Rate: 60 ml/sec (2 fl oz/sec) at 15 mbar (6" water column)
Certifications: NSF, CE
Batteries: Powered by 4-AA Alkaline or Lithium batteries. See Product Manual for typical battery life expectancy
Media: Beverages without particulates up to 98º C (similar viscosity to water)
---
Touchless Valves – The Perfect Touch
When the global COVID-19 pandemic hit in March of 2020, we did what every other business in the country did: whatever we had to to get by. With supply chain breakdowns and fluctuating cost of goods, it was a tumultuous time to say the least. But at Deltrol Controls, we never let the chaos bring us down. We planted our feet on the ground, took a deep breath, and asked a simple question: how can we help?
How can we help our clients get their components?
How can we help evolve our technology to meet the demands of the day?
How can we help deliver a product the world desperately needs?
Our engineers got to work and developed our brand new Touchless Dispensing Valves. Battery-operated to dispense coffee, tea, juices and other beverages from serving equipment, our valves limit the spread of germs by erasing the need to touch a shared machine. The valve uses patent-pending technology to detect a cup and then dispenses the beverage with a simple hand gesture. No germs, no effort—win, win. But as great as the technology is, it wouldn't mean a thing if it couldn't be practically implemented. That's why we designed our valves in a way that can be retrofitted on most existing equipment with minimal effort.
The pandemic was difficult for everyone. But thanks to the innovation that spawned from it, dispensing liquid is easier than ever.
Are you ready for future filled with possibility and flowing with innovation?
That future is so close, you can almost reach out and touch it. Or, in our case… not.